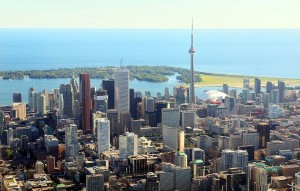 Every year hundreds of students begin dental hygiene programs in Toronto and the surrounding area. Many of these students come from other parts of the province and country and will be living in Toronto for two years. Here are some important things to consider when thinking of enrolling in a dental hygiene program in Toronto:
Choosing the right post-secondary institution:
There are five colleges in Toronto and two in the Greater Toronto area which offer accredited programs in dental hygiene. George Brown College of Applied Arts and Technology is a community college with several campuses in the city – their dental hygiene program runs on a campus just north of the downtown core. As a community college they receive government funding which allows them to subsidize tuition costs.
All of the other dental hygiene programs being run in Toronto and area come from private career colleges, such as Oxford College. Private Career colleges are not directly supported by governments, so the tuition is more expensive. Another major difference between a private college and a community college is that community colleges will run their programs over a two year period, while students in private colleges will complete their studies in 18 months (the amount of classroom and clinical time is the same, but community colleges typically don't run classes during the summer months).
Choosing between the various private colleges can be difficult – differences between them over what they teach and the cost of tuition (and other costs, such as books and supplies) may not vary too much. It would be a good idea to visit the colleges you are considering to go to, so you can see for yourself what the colleges look like and perhaps talk with some of the current students.
Some points to consider:
1. How well are the college's graduates doing on the National Dental Hygiene Certification Exam – you can see the latest results from the NDHCB website.
2. What can you learn about the colleges from other internet resources, like Facebook or chat groups?
3. Where is the location of the college? You will probably want to live close to the college, or, if commuting, how easy is it to get to by car or public transport.  You may want to take a look at the prices for room or condo rentals in these areas – use a website like Craigslist to see what is on the market.
4. How many dental chairs does the college have available? If it is less than the amount of students they accept in, it will mean that there will be times where you will not have access to the dental chair to do your clinical training.
5. Where will you be able to get the most clients from? For any student going through a dental hygiene program, one of the key challenges will be how you will be able to find people to sit in your dental chair and let you perform dental hygiene procedures on them. All of the colleges should have some support to assist you in finding members of the public, but it will be your responsibility to find clients, and this can often be difficult. Hopefully you have a lot of friends and family members who will agree to help you and are reliable enough to follow through on their promises. You may want to consider how close the college is to these people, to make it easier for them to come in and be your client, even on short notice.
These are just some of the factors that you might want to consider when choosing a dental hygiene program. The best advice we can give is to take a look at as many options as you can, and see which one is the best for your situation.